Please login to the form below
What pharma needs to know about genomic data in 2016
Consultant David Cooney from Blue Latitude Health talks us through what this progress in genomics means for pharma in 2016.
Since the Genome Project started in 1990, genetics has been the "great hope" of healthcare, promising to solve the great mystery of how illness and disease affect us on an individual level. About ten years ago, personalised medicine was a major step forward – tailoring treatments based on individual patient history and information. Fast forward to 2016, and investigating the central dogma of biology is still a major focus of healthcare research.


Now, more researchers are adopting a systems biology approach, combining genetic data with phenotypic data, such as patient records and clinical information, along with metabolomoics and epigenomics. At the forefront of this trend are Human Longevity Inc. and Calico, who are leveraging this multi-discipline approach to target the single biggest risk factor in all human disease – ageing.


Consultant David Cooney talks us through what this progress in genomics means for pharma in 2016.


Partnerships between major players will be increasingly important
Partnerships between companies like the Human Longevity Inc. (HLI), Calico, 23andme, and the award-winning Color Genomics mean that we'll start to see some innovative research and development work in this area. While this may seem like future-gazing, the reality is that pharma companies are already collaborating with these companies.


Work by HLI in partnership with Calico is incredibly important because it's pushing this research into the clinic to impact patient care. We believe 2016 will be the year we start to see the fruits of these partnerships emerge from R&D into the commercial space with innovative, genetic-based services. Which means that pharma needs to consider whether their value proposition will still hold if the competition is able to support their brands with genomic data.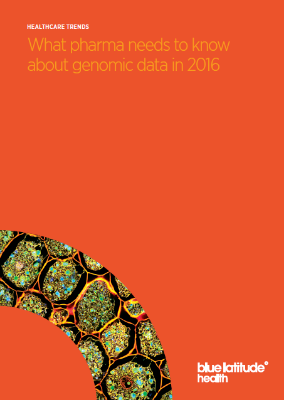 Address:
Blue Latitude Health (UK)
140 Aldersgate Street
London
EC1A 4HY
United Kingdom